Anita Cooney
Silkscreen 18x24
Visiting Designer
Lecture Series— A set of bespoke posters,
designed to exist across space and bend conventional expectations of posters' formats. The center vector is a homage to the iconic building on Pratt campus.

The Spectacular
Society
Poster Design
A collaboration
2018—2018
Printed Collateral
CalArts, CA

For the Dance Thesis Choreography performance by Marissa Osato; the theme of the dance is to show the tension between indivduals and the background events of historical Japanese internment camps. The performance is entirely silent, along with the particular choreographic body movements to demonstrate the sense of psychological confinement and enclosure.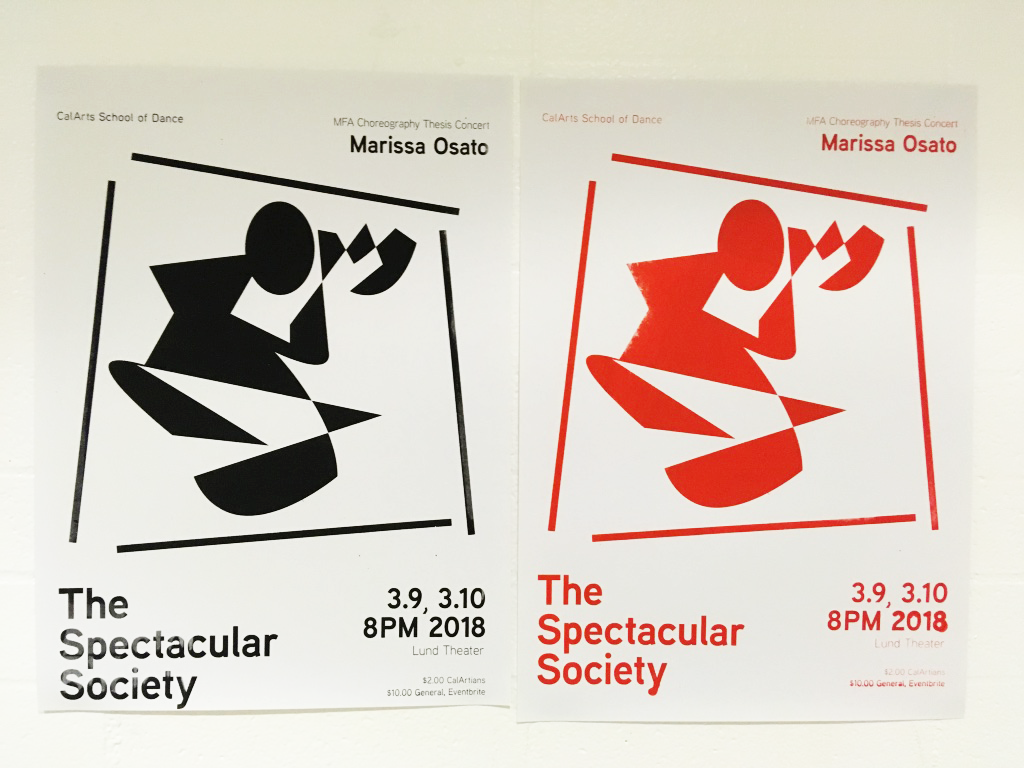 Angela Dufresne
Screenprint, Foamcore
18 x 24
2018—2018
Visiting Artist Lecture Series

MPA
Offset print
18x24
2017—2019
Paul Brach Visiting Aritists Series CalArts, CA
A set of 18x24" posters for the artist's lecture at CalArts. The artist's works is known for her usages of monotone color red, especially in her most recent performance "Mars".
"Numerous science-fiction tales have speculated about life on Mars. Such fantasies may become reality as soon
as 2026, as corporate investors fund expeditions to the planet. In The Interview: Red, Red Future at the Contemporary Art Museum Houston (Feb. 27-Jun. 5), MPA takes the "impending human colonization of Mars as a departure point for a series of photographs, sculptures and an interactive installation." —Art in America (Click here for more information)